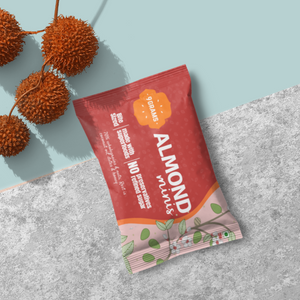 Almond & Figs mini Bar
Regular price
Rs. 40.00
Sale price
Rs. 35.00
Tax included.
Ingredients baked in almond butter and topped with whole almonds, raisins & Figs (anjeer) 


FEATURES
The

 

Only Bar where ingredients are roasted in Almond butter

 

to give an amazing flavor and Aroma.
Made with all natural and nutritious ingredients including
Rolled Oats, a superfood considered as complex carbohydrate
Almond Butter, high in unsaturated (good) fat
Figs (Anjeer), excellent source of Potassium and  amp; Calcium
Extra virgin coconut oil
Low temperature roasting keeps the nutrients intact
Extra Virgin Coconut Oil used in preparation has all the good fats. These medium chain fatty acids are easy on stomach and get used as energy rather than stored as fats.
DESCRIPTION
Our Bar is 100% Natural and made with Premium ingredients. In one of its kind process, Oats are slow roasted with Almond Butter to give an amazing flavor and aroma. It is then combined with Oats and  figs to create a bar which is not just great in taste but also full of Nutrition. 
CAN BE USED AS 
Use this Energy
As a on-the-go snack
To Satiate your hunger
With a Cup of tea/Coffee
Pre-Post Work Out
In between your games
FAQ's
Q: what is a energy/protein bar?
A: When you are looking for something to satisfy hunger pangs in between your meals or something for your pre/post workout meal, go for a good energy or nutrition bar. These bars are formulated to give you all the nutrients that you need and also keep you feeling satiated for longer. 

Q: What is the difference between energy, protein, breakfast and snack bar  ?
A: An energy bar is full of carbohydrates to give an instant boost of energy. While a protein bar has high protein content which works as a meal replacement bar. A good breakfast bar would have a good quantity of wholegrain in it along with protein. A snack bar would generally have high qty of grains to help you feel full for long

Q: There are so many bars in market, What is different about 9GRAMS bar ?
A:  Some bars are not baked and taste like like raw dough, some have loads of sugar, but not this one. It is perfectly baked so that it is crunchy enough to eat with your tea and chewy enough to have between meals. Best things is that all ingredients are well balanced, its healthy and tastes too good; we bet you just cant stop at one. 
Q: What about 9GRAMS?
A:  Our products are curated & made in small batches. Ingredients with their respective percentage are listed on label. Our well researched recipe balances right macro and micro nutrients.
All our products will have around 9 grams of protein and that's our story ! 


NUTRITION & INGREDIENTS



9GRAMS Energy Bar-Made of everything Good.
We make sure that the bar you get has the best of ingredients and is great on your taste buds.
Only bar infused with Premium Nut Butters to give amazing Flavour and Aroma
Have it with a cup of tea, during an office break or after a big game; it is sure to satiate your hunger.